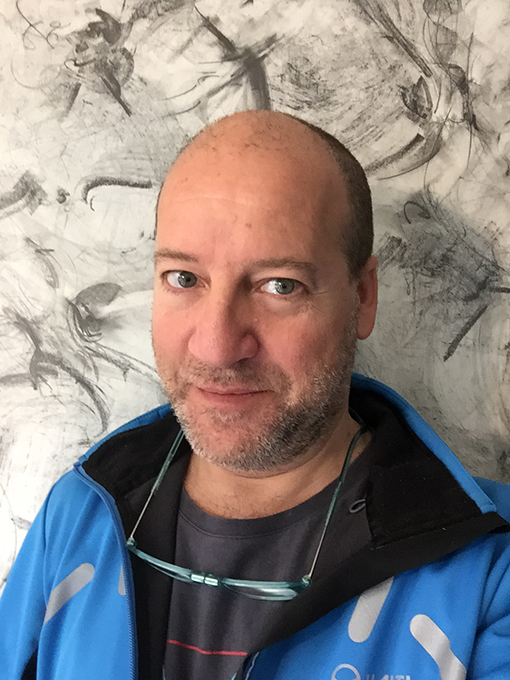 Pablo Holcer was born in Buenos Aires, Argentina in 1966 at the core of a family always ready to converse passionelly about films, theater and Art.He started studing painting at the age of thirteen, devoting Saturday mornings to creativity, that opened up his curiosity and passion for the visual arts. In 1981 his father bought an Apple II plus and he was immediately hooked onto exploring digital art, a passion that has accompanied him ever since. It was the early 80's when VHS camera recorders were made available in the market, he explored and combined video experimentation and digital art.
In 1983 he started his studies at the School of Fine Arts. One of his teachers invited him to engage as an assistant professor in the "Visual Fundamentals" program as part of the Art Faculty at University of Buenos Aires.

Upon graduating in 1989, Pablo went to live to Spain for two years where he would work with bronze sculptures in a foundry and at a private Art Gallery. When Pablo returned to Argentina in 1992, he worked as an Art Director for a music venue promoting rock concerts and avant garde performances.
In 1993 he was invited to work with one of the most prestigious Film Directors in Argentina, Leonardo Favio, on his mega TV documentary about the history of Peron, "Peron, Sinfonia de un Sentimiento" as an animation Director, using early VFX  techniques. Soon after, Pablo made an incursion in the advertising world working for a couple of post production houses in Buenos Aires. This experience led him into the film and animation industry. In 1996 he went on to work for a project that combined cartoon animation and live action at Patagonik Group, a film production house company.
In 1999 Pablo co-directed "Condor Crux" the first movie of its kind in Latin America, combining cartoon animation and 3D environments. he movie was the pinnacle of his career in Argentina.
In 2002 he moved to Los Angeles with his family where he continued his VFX career. He worked at ILM and then at Rhythm and Hues where he stayed for 11 years, he started as a digital compositor and worked his way to lead and then to Sequence Supervisor position.

In 2013 he started working for Sony Pictures Imageworks in LA and then moved to Vancouver with his family where he has continued his career to this day. Pablo enjoys working with numerous groups of young artists as a CG and Compositor Supervisor in the VFX industry.